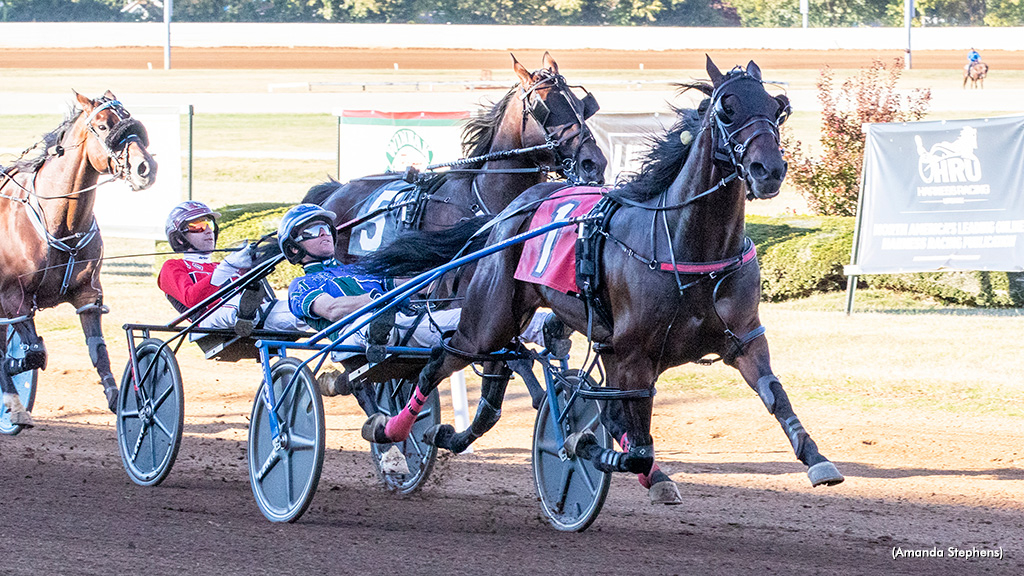 Published Standardbred Canada, 9 October 2022
Photo: Amanda Stephens
ALLYWAG HANOVER upended Bulldog Hanover's latest world record attempt as he shot past the sport's fastest Standardbred in the stretch to win the highly anticipated $153,000 Allerage Farms Open Pace in 1:46.0 during The Red Mile's Grand Circuit closing day card on Sunday 9 October.

Pacing powerhouse Bulldog Hanover tried his hand at beating the record he set just a few months ago. Driver Dexter Dunn laid the foundation for Bulldog Hanover's mark in history with a clip of :26.2, :52.2 and 1:19.1 while unopposed on the lead. Todd McCarthy, meanwhile, kept ALLYWAG HANOVER ready in second and launched his attack on the turn for home. Bulldog Hanover fought for life with an eighth to go as ALLYWAG HANOVER unrelentingly kept pushing forward to the finish.

"He felt good," Todd McCarthy said after the race. "He swelled right up – felt like he had a lot of go – but I didn't want to count my cards too early until I pulled. 'Bulldog' never wants to let anyone pass him."

The pressure eventually mounted and world champ Bulldog Hanover conceded the fight to ALLYWAG HANOVER as the five-year-old CAPTAINTREACHEROUS gelding snagged the 1:46 victory to match Always B Miki's all-age track record, set in this event in 2016, while also lowering the world record for aged pacing geldings set back in 2006 by Holborn Hanover at The Meadowlands.
"I feel like I'm Marylou Whitney after the '04 Belmont and having to apologize to the crowd," said Adam Bowden, co-owner of ALLYWAG HANOVER, after the race. "We were told he was coming in ready to do this and it was pretty exciting. It set up perfectly for him. Todd, a masterful drive; Brett [Pelling], a masterful training job."
"He's had two races – at Hoosier and Dayton – where [he was] locked in for his life and loaded," said trainer Brett Pelling. "If ever a horse is sitting on one, it's after those trips. We know he can follow any speed and he was just sensational today."
ALLYWAG HANOVER collected his 23rd victory from 52 tries and pushed his earnings $1,636,622 for owner Allywag Stable. The David who slayed Goliath paid $23.82 to win for the 10-1 upset. He is now CAPTAINTREACHEROUS' third best performer, behind multi-millionaire mare, LYONS SENTINEL, and CAPTAIN CRUNCH.
WORKIN ONA MYSTERY (also by CAPTAINTREACHEROUS) rounded out the top three finish order.