It was an incredible weekend for the champion stallion CAPTAINTREACHEROUS including progeny in seven of the eight pacing races on Saturday night at The Meadowlands, including four Kindergarten Stake races for two-year-olds.
Not only did CAPTAIN sire the winners of the four Kindergarten Stake races, he produced two trifectas, one with the fillies and one with the colts. This surely argues well for CAPTAINTREACHEROUS's progeny as they dominate the estimated $250,000 Finals this coming weekend.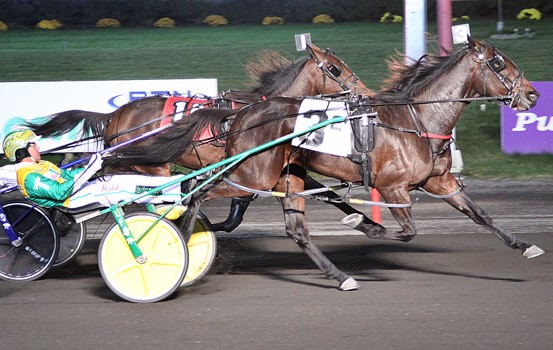 In the first of the Kindergarten Stake races for fillies, the Brett Pelling trained TREACHEROUS DRAGON (right, a sister to STAY HUNGRY) won for the fourth time in eight starts taking her earnings to $161,000. This race was also a CAPTAINTREACHEROUS filly trifecta and they were the only starters in this race by this great son of SOMEBEACHSOMEWHERE.
1st – TREACHEROUS DRAGON (CAPTAINTREACHEROUS – My Little Dragon – Dragon Again)
2nd – FIND HAPPINESS – (CAPTAINTREACHEROUS – Auniqueaquistion – Cole Muffler)
3rd – COUNTERPARTY RISK – (CAPTAINTREACHEROUS – Belclare – McArdle)
In the second of the Kindergarten Stakes for fillies, the very good Tony Alagna trainee DON'T FENCE ME IN (below) won for the fifth time from 11 starts now with stake earnings of $287,000. Second in this race was HOOD PARTY (by BETTING LINE) then followed three more  daughters of CAPTAINTREACHEROUS.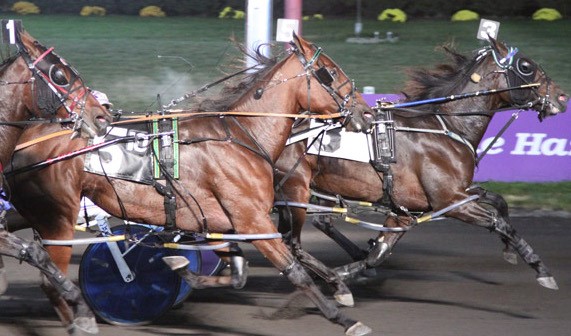 1st – DON'T FENCE ME IN (CAPTAINTREACHEROUS – Mystery Game – ARTISTIC FELLA)
3rd – SMUGGLE TINA (CAPTAINTREACHEROUS – Terrortina – WESTERN TERROR)
4th – SOUTHWIND JAVA (CAPTAINTREACHEROUS – Southwind Johanne – Dragon Again)
5th – CAPTIVE (CAPTAINTREACHEROUS – Aria Hanover – WELL SAID)
In the first of the colt's divisions of the Kindergarten Stakes, the only starter by CAPTAINTREACHEROUS was the Joe Pavia Jr trainee CAPTAINRYANMICHAEL who duly obliged in a new lifetime mark of 1:51.2 taking his stake earnings to $71,444. It was his third victory from eight lifetime starts.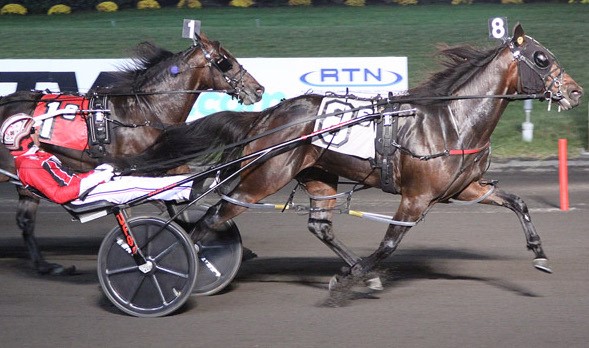 1st – CAPTAINRYANMICHAEL (CAPTAINTREACHEROUS – Pucker Up – Western Hanover)
In the second colt's division, CAPTAINTREACHEROUS sired the trifecta. First home was the Brett Pelling trained and very promising HAMMERING HANK (right). It was the seventh victory from nine starts and took his lifetime earnings to $125,300.
1st – HAMMERING HANK (CAPTAINTREACHEROUS – History Repeats – Dragon Again)
2nd – CAPTAIN COWBOY (CAPTAINTREACHEROUS – Odds On Lassomyhrt – Western Hanover)
3rd – MAC'S MARVEL (CAPTAINTREACHEROUS – Michelles Power – Camluck)
But for CAPTAINTREACHEROUS it did not stop with sweeping all four division of the Kindergarten Stakes this last Saturday night.
In a pacing race for older horses, CAPTAINTREACHEROUS had two starters, and you guessed it, they finished 1-2 a nose apart. The star pacers CAPTAIN BARBOSSA p,1:47.1 ($592,854) and WORKIN ONA MYSTERY p,1:48.1 ($735,414) headed a field of ten older pacers easily in 1:49.4. CAPTAIN BARBOSSA is out of the Art Major mare Swinging Beauty while is out of the Dragon Again mare Dragons Tale.
In the featured $36,000 Pace, CATCH THE FIRE p,1:47.4 ($1,308,069), the millionaire son of CAPTAINTREACHEROUS and only starter by him, was too good for this field of Free For All Pacers. CATCH THE FIRE has already served a good book of 86 mares at Sugar Valley Farm in Ohio while still racing. He is out of the Bettor's Delight mare Dream Outloud.
The only other race that a son of CAPTAINTREACHEROUS started in was the last race on the night and you guessed it, the three-year-old HIGH BALLER (CAPTAINTREACHEROUS – Belclare – McArdle) prevailed in 1:51.1 with a :26.3 final quarter to win easily by two lengths.
It was certainly an incredible night for CAPTAINTREACHEROUS's progeny, but few would probably realise that just the previous week in the $600,000 Breeders Crown Final for older pacers CAPTAINTREACHEROUS and his father SOMEBEACHSOMEWHERE sired eleven of the twelve entered, another incredible statistic.
1.WARRAWEE VITAL by CAPTAINTREACHEROUS – Great Memories – Apaches Fame (Trevor Henry, Rob Fellows)
2. WORKIN ONA MYSTERY by CAPTAINTREACHEROUS – Dragon's Tale – Dragon Again (Tim Tetrick, Ron Burke)
3. ENAVANT by SOMEBEACHSOMEWHERE – Lady Be Great – Western Ideal (Bob McClure, Luc Blais)
4. THIS IS THE PLAN by SOMEBEACHSOMEWHERE – Thats The Plan – Western Ideal (Yannick Gingras, Ron Burke)
5. CATTLEWASH by SOMEBEACHSOMEWHERE– Road Bet – Bettor's Delight (David Miller, Ron Burke)
6. NICHOLAS BEACH by SOMEBEACHSOMEWHERE – Michelle My Gal – Dragon Again (Joe Bongiorno, Jennifer Bongiorno)
7. Ocean Rock by Rocking Amadeus – Ocean Pearl – On The Attack (Dan Noble, Christi Noble)
8. ALLYWAG HANOVER by CAPTAINTREACHEROUS – Anderosa Hanover – The Panderosa (Todd McCarthy, Brett Pelling)
9. CATACH THE FIRE by CAPTAINTREACHEROUS – Dreamoutloud – Bettor's Delight (Scott Zeron, Todd Luther)
10. RUTHLESS HANOVER by SOMEBEACHSOMEWHERE – Rockaroundtheclock – ROCKNROLL HANOVER (Andy McCarthy, Tom Cancelliere)
AE1. DORSODURO HANOVER by SOMEBEACHSOMEWHERE – Deer Valley Miss – Artsplace (Brian Sears, Ron Burke)
AE2. CAPTAIN BARBOSSA by CAPTAINTREACHEROUS – Swinging Beauty – Art Major (Dexter Dunn, Tony Alagna)
In Australia, CAPTAINTREACHEROUS has a current two-year-old crop of 77 live foals for 32 starters (20 winners) with average earnings of $18,878 to rank as the number one sire in Australia based on average earnings per starter as at the 8th of November.